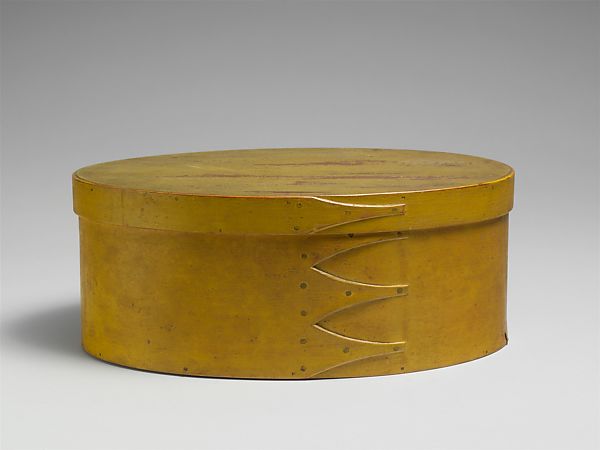 ORIGINS

Shakers first migrated from England to America in 1744, led by the prophet Ann Lee. They were a religious radical group of Quakers known as 'Shaking Quakers' or 'Shakers' as they tended to move ecstatically and dance during worship. Shaker communities were self-sufficient on the whole. They aimed to separate themselves from the outside world and create their own 'heaven-on-earth'. Residents grew their own food, built their own buildings, and made their own tools and furniture.
The guiding principles of being a Shaker were honesty, utility and simplicity, which shone through in the furniture that they created, which was renowned for its minimalist design and durability. Ornaments were rejected as representations of the sin of pride, meaning that the products produced focussed on function over form. But this minimalist touch, not dissimilar from the
Bauhaus
, was what made these items so beautiful. The Quakers were creative with their work and used functional touches to embellish their designs, for example, asymmetrical drawers or multipurpose forms were often used.
The first generation of Shaker carpenters were converts who had worked in the outside world before joining the religion. Restrained ornamentation was already a trend at the time, but quakers took this further and made their products with simple, stripped-down techniques which displayed no form of ornamentation or decoration at all. Simple American woods were used to make the furniture, and simple wooden knobs were used instead of imported brass knobs. Furthermore, colours used were natural and minimal so as to remain modest.
FUNCTION OVER FORM

Shakers were proud of their attention to detail and quality during a time when mass-produced furniture was often shoddy and unreliable. However, this did not mean that they slaved over each item using a cumbersome hand making process. Innovative tools were used alongside simplistic patterns. In fact, simplicity was prominent from concept, through process, and to outcome. The use of these tools also kept furniture reproducible and affordable.
As mentioned, Shakers prioritised function and created products whose functionality dictated their aesthetic appeal. For instance, they modified the standard "trestle" table by moving the medial stretcher from just above the floor to directly underneath the top. On a functional level, this created more leg room and avoided damage to the stretcher, while aesthetically, the open base made the table appear lighter and less cumbersome. Similarly, the Shakers developed distinctive chairs with a low, single-slat back, which could slide under the dining table or hang on wall pegs when not in use. To maximise space, Shaker furniture was either "built in" to the room itself or, if freestanding, designed to fit specific areas.
One homeware item that the Shakers were particularly famous for was their pantry box. Originally used for storing small items or kitchen ingredients, these boxes were designed to be stored one inside the other but also looked great stacked together as a set. The Shakers were not the originators or inventors of these bentwood boxes, but did refine their style and standardised shapes and sizes, and now this style of box is most commonly associated with their style. The Shaker community began to die out after the Civil War as modern life started to take over and society became less religious. Since then, Shaker furniture has remained in high regard, and is a staple to any furniture museum.